FAST facade system
Curtain facade structure for solar modules
Energy production on the facade
Custom made manufacturing
Optimal facade protection
Areas of application
FAST is suitable for all areas where curtain wall systems are used. This includes single-family houses, apartment buildings, high-rises, etc.
How it works
The solar modules with backrails are placed into the horizontal profiles and folded up like a tilting window. They are fixed by a slide safety catch. Later dismantling is possible without restrictions.
Downloads
Planning information for customized modules
1 Apply transverse profiles to the vertical structure of the building.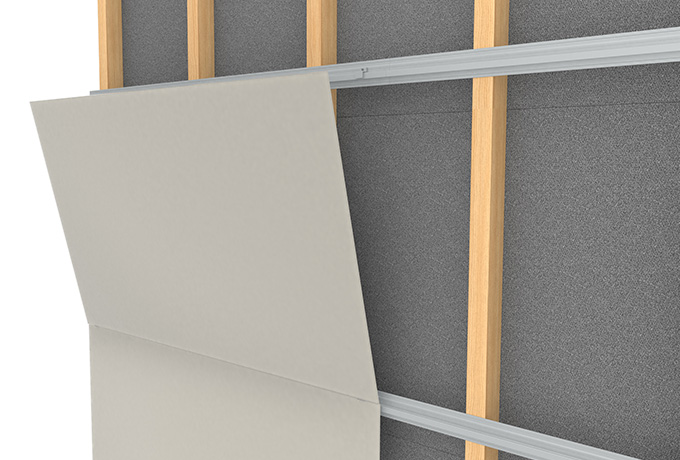 2 Place module, inclination is possible for cabling.
3 Secure module temporarily and adjust, +/- 3mm also possible after mounting.
4 Secure module and place next module.
Option: Concealed mounting
Option: Lateral adjusting screws for concealed mounting
Flexibility
Glass-glass modules used on the facade are usually custom made. Their shape, colour, size and surface can be individually designed. Price advantages can be achieved when using the standard measurements.
Components
Glass-glass solar modules with SSG adhered backrails and mechanical support
Horizontal rail, slide safety catch
Vertical structure as well as consoles/spacer screws are often provided on site. If required, they are part of the package.
Type of installation
The mounting is concealed by means of backrails on the rear side.
Installation time
10 m2 / man-hour (experienced installation personnel)
System interface
The adhesion of the backrails on the rear side of the module takes place in-house.
Technical specifications
Solar module type: glass-glass (colours, shapes, thicknesses, surfaces can be freely defined)
---
Vertical adjustment: +/- 3 mm, on the front also possible after mounting
---
Typical span width of the horizontal profile: 800 mm
---
Fire protection: structure consists of aluminium. The component is considered to be non-combustible material as defined by the Cantonal Fire Insurances.
---
Vertical support: mechanical (lower edge of solar module)
---