Honors and awards
Numerous awards testify to the trust placed in our corporate culture, our brand and our products.
The Export Award from Switzerland Globale Enterpreise is presented annually to a company that stands out for its exceptionally successful expansion strategy and its consistent implementation. Megasol AG received this award for its internationalization strategy.
«Solar Impulse Efficient Solution» Label
The Solar Impulse Foundation label is awarded to products, services and processes that combine environmental protection with financial profitability. Megasol's MATCH roof integration systems meet all the criteria for a sustainable solution, and have been added to the Solar Impulse Foundation's list of "1000 solutions to change the world".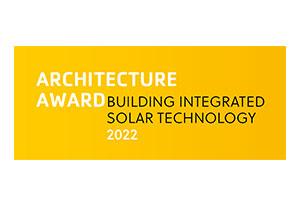 Baverian Association for the Promotion of Solar Energy e.V. (SeV) presents annual awards for outstanding contributions to the planning and design of building-integrated solar systems. In 2022, the first prize was awarded to the lighthouse project of Megasol Energie AG: The AUE Canton Basel-Stadt building, which features the world's first solar façade with 3D fused glass.
The Red Dot is one of the most renowned design competitions in the world. It honors special design and exceptional aesthetics. Megasol wins the Red Dot in the Urban Design product category in 2021.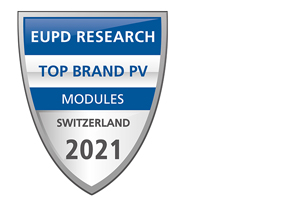 Every year, the market research institute EUPD Research identifies the most successful and strongest brands on the PV market. For the installers surveyed, Megasol has long been one of the most popular module manufacturers.
The Swiss Solar Prize is awarded by the Solar Agency Switzerland. Every year numerous projects with Megasol participation can look forward to an award.
The Architecture Award Building-Integrated Solar Technology is an international competition that places a special focus on the interface between architecture and solar energy.
The European Solar Prize brings innovative projects to the attention of the public and provides new impetus for a regenerative and decentralized energy transition in Europe.
The prestigious Swiss Energy Prize is awarded by the Swiss Federal Office of Energy (SFOE) and is considered a seal of quality for energy excellence.
Bernese Enterprise Award New Energy
The expert jury of the Bern Section of AEE Suisse honors exceptional economic contributions to the energy transition. In 2019, the prize went to SWISS PV AG.
Every year, Baloise Bank SoBa awards a prize to a selected project that provides innovative and positive impetus to the Solothurn economic region. In 2018, the prize went to SWISS PV AG.
The Swiss Innovation Award of IDEE-SUISSE honors achievements that sustainably strengthen the Swiss economy. In 2017, the prize went to our production company SWISS PV AG.