LOCKUP Roof
The fixation system for framed high-performance modules fully compatible with components of leading manufacturers.
Suitability
All roof coverings: tile, seam metal, trapezoidal sheet, corrugated roof, fibre cement, Prefa
Compatibility
Modules: All frames 30-40 mm
Roof connections: Megasol, Schletter and K2
Characteristics

Ideal solution for trapezoidal sheet thanks to sheet adapter
Simple components: LOCKUP rails, clamps, any roof connection
Compatible with all roof connections from leading manufacturers like Megasol, Schletter and K2
U40 frame
High performance module with U40 frame on LOCKUP fixation
CleanFrame 3
High performance module with CleanFrame 3 on LOCKUP fixation
CleanFrame is a frame with no protrusion over the glass (the glass is fitted onto the frame). Dirt and snow can thus drain off unhindered. This creates a natural self-cleaning effect (CleanFrame effect), which enables additional yields of up to 20%. For flat roofs and only slightly inclined pitched roofs, this is the ideal solution! CleanFrame means more power yield with less maintenance.
1 Install roof connection. Example: roof hook for tiled roof.

2 Supporting rails per row of modules. Rails can be mounted vertically as well as horizontally.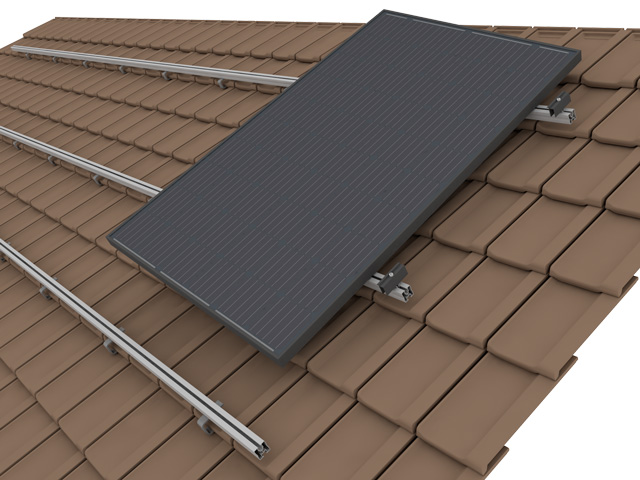 3 Place clamps on the edge and insert module. Framed modules can be mounted portrait (horizontal rails) or landscape (vertical rails).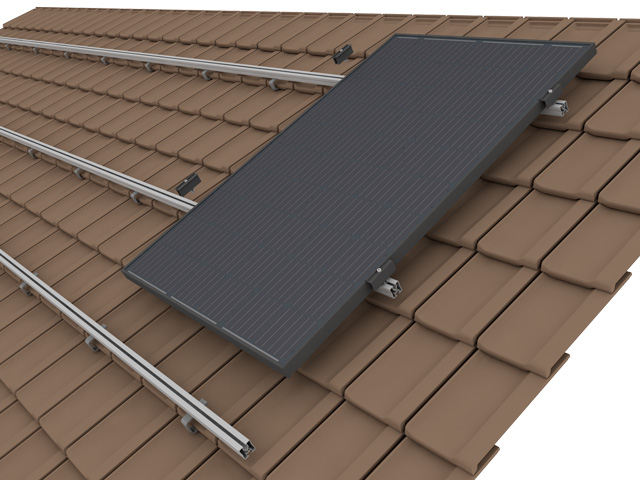 4 Tighten the edge clamps and place clamps between the modules.
5 Place the next module. Complete wiring and tighten clamps.
6 LOCKUP is suitable for all pitched roof coverings and is compatible with components from all leading manufacturers.
The system enables a quick and professional installation of solar modules on all pitched roofs. It is suitable for both vertical and horizontal module arrangement (landscape and portrait). The robust components ensure maximum safety even on roofs with strong wind exposure or high snow loads. The consistent choice of high-quality materials ensures decades of service life.
Sheet adapter, LOCKUP rail, stopper