LAYUP Roof
The fixation system for glass-glass modules (monofacial or bifacial) fully compatible with components of leading manufacturers.
Installation types
LAYUP Roof can be installed on tiles, corrugated roof, trapezoidal sheet, facades, etc. Proven mounting systems such as Schletter, K2 and Megasol are ideally complemented. The safe and efficient mounting solution that enables the use of particularly durable glass-glass solar modules.
Downloads
Intelligent component design with flexible layout
Safe positioning and slip-free fixing in the supporting rails
Efficient assembly: position, place and fix the module
Roofs and facades with mounting angles between 0º and 90º
No protruding edges (CleanFrame effect)
Full compatibility with K2 and Schletter and Megasol primary constructions
Optional: additional clamps for particularly exposed layouts
Rooftop "landscape" installation

Rooftop "portrait" installation

1 Example: Tile roof with vertical Schletter or K2 rails.
2 Mount the bottom LAYUP rail with cross connector.
3 Place next LAYUP rail with spacer wood and fix it.
4 Mount the top LAYUP rail rotated by 180° with spacer wood (22mm shorter).
6 Secure module with LAYUP end clamp and place LAYUP bottom middle clamp.
7 Insert next module and tighten LAYUP top middle clamp.
8 Place and secure the next modules. Add LAYUP spacer between the modules.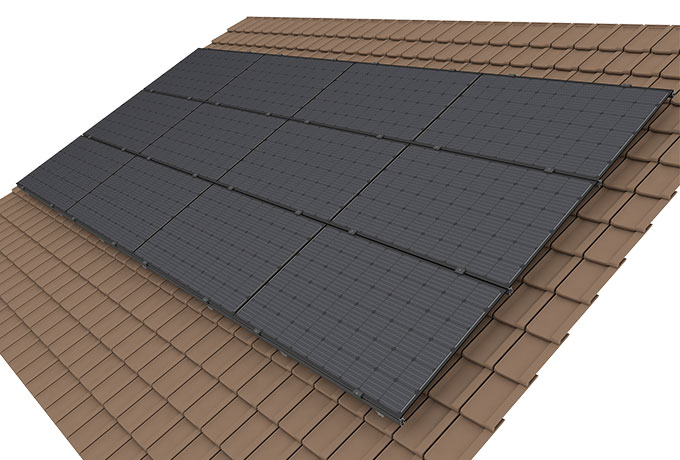 9 The bottom row is secured with LAYUP end clamp.
LOCKUP rail for portrait installation
The sheet adapter is the perfect roof connection for trapezoidal sheet